What is Occupational Therapy?
The word 'occupation' in Occupational Therapy (OT) means an activity which is meaningful to the person doing it.  If we are not able to do the things that are important to us, it can affect our quality of life.  Everyone's occupations are different because we all have individual needs, likes and abilities.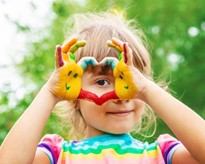 For example, imagine your occupation is having a bath every evening which gives you some "me-time" at the end of the day.  It makes you feel rejuvenated, calm and in control.  Suddenly there is a change in circumstances and you can no longer have your much-loved bath.  Maybe you've moved to a home with only a shower, got a brand new kind of bath that you have to learn how to use, or there's been a mental, physical or emotional change that means you aren't as independent as you once were.  This is where OT comes in.
Our Occupational Therapy Service
Our Occupational Therapist, Shelly Saunders, collaborates with children and their families to provide a tailor-made one-to-one service.  Using a holistic person-centred approach, where all aspects of a person's life and situation are taken into consideration, she will work with you to find ways to reduce or eliminate barriers to occupation.  For some children with autism, for example, anxiety, differences in sensory processing, communication and learning style may make school, play, and activities of daily living (such as getting washed, dressed, eating, using the toilet) challenging or distressing.
Please note that although we are currently working remotely, we are still able to provide a thorough person-centred OT service using Zoom.
When we are able to hold face-to-face appointments, meetings will be available at our autism-friendly Stafford base, in your home, or at your child's school if appropriate.